The Kids Shots Difference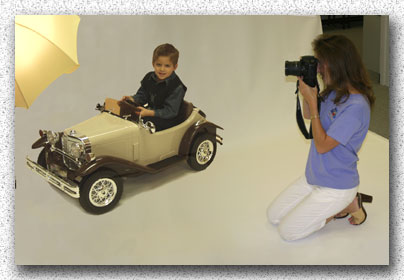 Kids Shots Portrait Studios is equipped with the latest in digital photography technology, providing you with a variety of special effects, portrait finish options and retouching services. We capture that "just right expression"! Cropping adjustments are available for your immediate viewing.
Digital photography provides "replay" capability to ensure great expressions and poses.

Photographer moves in concert with the subject, the cameras hand-held, not fixed onto a tripod. This ensures that images are in a variety of positions which allows the photographer to catch those great expressions!
Children's photography is our specialty "but we're not
just for children"!
Instantly view poses in a variety of portrait sytles:
color, black & white, sepia, vignettes and color tinted.
Our Kids Shots professionally trained photographers
are also skilled at producing great family, group, sports
and pet portraiture.

Kids Shots Studio is locally owned...a vested interest,
unlike chain type operations.
State-of-the-art Professional Digital Photography offers
many advantages:
High resolution images
No predetermined number of images taken
Online viewing available

No pressure selling